Angela C. Andersen, CRP, SRMP Sustainability Coordinator
andersen@longbeachtownship.com
609-361-6641
For information on the LBT Field Station in Holgate please check out: https://lbtfieldstation.com/
………………………………………………………
RESILIENT LBI: 
The LBI Resilience and Adaptation Action Plan is the culmination of a two-year community planning process. The plan recommends a suite of regulatory, engineering, and nature-based solutions to address climate-related hazards and build a more Resilient LBI. To read the plan and to learn more about RLBI: Resilient LBI Action Plan and Information
OYSTER RECYCLING PROGRAM:
Long Beach Township and Mayor Mancini had plans to grow oysters before Superstorm Sandy devastated our region. After a dedicated 5 years of rebuilding, the Township is now able to add other important initiatives like beautifying our parks and public access, and cleaning up the Barnegat Bay. LBT is the leading municipality in oyster shell recycling, providing staff and vehicles to control the busy logistics of pick-ups from area restaurants. Collaborating with Stockton University, Parson's Mariculture, and the Jetty Rock Foundation, the oyster recycling program has rerouted 5000 bushels of shell from the waste stream to building a reef in Little Egg Harbor Bay.  
Our program has been recently awarded (November 2020) the NJ DEP Leadership Award for Outstanding Achievement in Recycling.  We are the only municipality in NJ that is investing in shell recovery.
SUSTAINABLE JERSEY
Long Beach Township is a Sustainable Jersey certified community — one of only 171 in the state. Long Beach Township achieved Sustainable Jersey certification at the bronze level. Certified towns are an outstanding group of municipalities that are making important contributions toward the long-term goal of a sustainable New Jersey and world. LBT has won and earned many awards in the sustainable community. In 2018, LBT was among six New Jersey municipalities recognized as a "Champion of the Coast" by the American Littoral Society. The organization has lauded these communities for their efforts to support regional ocean planning, oppose new offshore oil and gas drilling, and ban intentional balloon releases that pollute beaches and waters.
The Sandpaper: Long Beach Township Earns Sustainable Jersey Certification
Sustainable Jersey: February Sustainable Jersey Hero: Angela Andersen, LBT Green Team Chair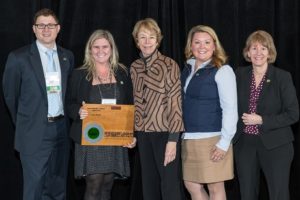 Angela Andersen (Long Beach Township Recycling Coordinator and Allison Iannacone (Owen Little and Associates) receiving Sustainable Jersey Certification at the NJ League of Municipalities, November 2014
WHAT IS #PLASTICFREELBT?
#PlasticFreeLBT is an initiative that focuses on habit changing lifestyle choices: Reduce plastic consumption, reuse when you can and recycle what is right but if it misses the recycling or trash can be a good steward and pick it up. In an effort to reduce the use of single use plastics we encourage our community to take pride in our island and keep our beaches and waterways free from plastic pollution.
Single-Use, Plastic Carryout Bags Ordinance
LBT GREEN TEAM–2023                                                                                                                                
| | | |
| --- | --- | --- |
| NAME | TITLE | Member Status |
| Angela Andersen | Sustainability Coordinator, LBT  | Team Leader |
| Dustin Martin | Dept of Public Works | Township Member |
| Danielle La Valle            | Municipal Clerk | Township Member |
| Regina Lotito | Township Employee | Township Member |
| Allison Iannicone           | Owen/Little Associates | Regular Member |
| Kristen Power | Alliance for a Living Ocean | Non-Profit/Citizen Member |
| Joan Phillips | Business Owner | Citizen Member |
| Sherry Roth | Township Resident  | Citizen Member  |
| Kim McKenna    | Stockton University | Academic Member |
| Kyle Gronozastji             | Jetty Rock Foundation | Non-Profit Member  |
|   |   |   |
*Members are on the Green Team for a term of one year.  Each year, the members are either renewed for another term or replaced by a new member.  For any questions regarding the Green Team, please email Angela Andersen at andersen@longbeachtownship.com